In a spirit to rebuild towns devastated by Russian artillery, Ukrainian DJs spin the vinyl in bombed out buildings.
The rave scene is known for its DIY attitude to hard partying. But, in Ukraine, techno heads have combined dance events and the rehabilitation of abandoned buildings.
Repair TogetherThe event attracted 200 people from all over the world, including the US and Portugal, to dance among the rubble in Yahidne, located 87 miles north of Kyiv. DJ Oleksandr Buchinskiy played techno using turntables mounted on ammunition containers.
Their thirst for repetitive beats sated, the ravers – mostly Ukrainian – grabbed shovels and wheelbarrows, turning their hands to clearing the shattered remains of a cultural centre razed by a Russian missile strike.
The Russian forces invaded the village on March 3rd and were later liberated by the Ukrainian Army on March 31st. However, many buildings were damaged in the fighting. According to the Kyiv School for Economics, 131,000 buildings had been destroyed by Russian missile attacks and shelling as of August.
Repair Together began by cleaning bomb sites in the background of electronica. Later, the party element was added to attract volunteers. 
Veronika Sitovska from Ukraine was one of them. After a summer break in Germany, she returned to Ukraine and felt compelled by Repair Together to help her.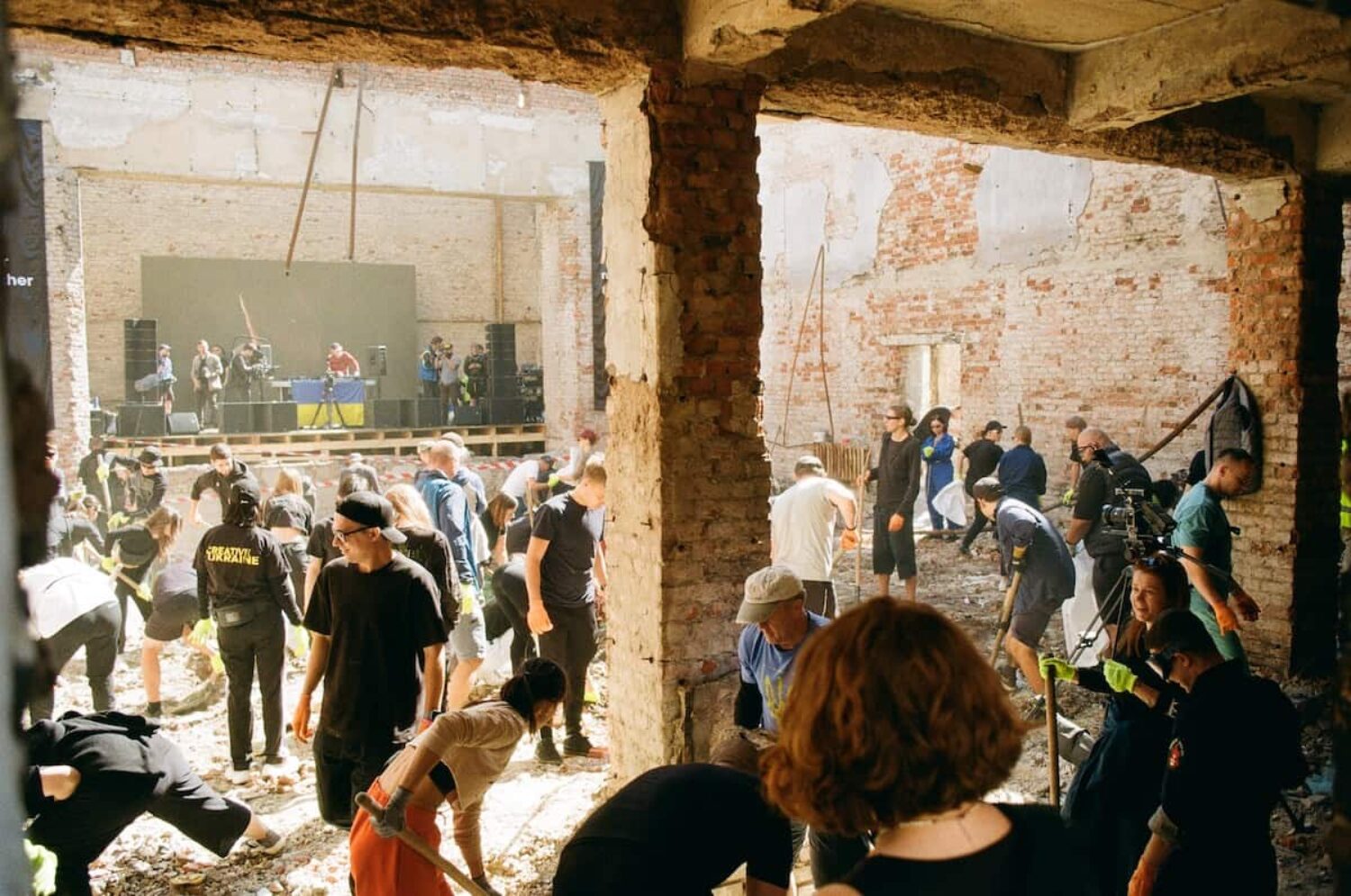 "It was a must for me," said the student, speaking from Kyiv. "I can't just stand on the side and watch. We have to keep on moving – with music, and by cheering ourselves up. It's the only way we can be useful – otherwise we're just going to sit there and cry, and that's no use to anyone."
The clean-up parties are seen as a welcome return to normalcy for young people in Ukraine and also give them a stake at the wartime effort. 
Repair Together has hosted nine clean up raves in three villages so far, and also repaired shelled homes. The next mission is to rebuild 12 houses in Lukashivka.
Main image: Alexey Furman/Getty
Help us continue breaking the bad news bias
Positive News is helping more people than ever to get a balanced view of the world – one that supports their wellbeing and empowers them to make a difference towards a better future. And as our audience and impact grows, we're showing the rest of the media that good news matters.
But the UK's cost of living crisis is affecting our income, with fewer people able to commit to a magazine subscription – which has traditionally been our main source of funding. Plus, paper and printing prices continue to rise.
We don't want to put a paywall on our website, because we believe everyone should have the chance to benefit from good news. But we won't be able to continue funding our online reporting without your help.
If you are a positive news supporter and value what we do, consider making a regular or one-off contribution. We need 1,000 readers to contribute just £3 per month to get us through this challenging time.

Remember, we are a non-profit organization and all funds support our journalism.
SUPPORT POSITIVE NEWS TODAY