The iconic voice of Rush Limbaugh no longer graces the airwaves, but the broadcaster's legacy lives on in a new book by his longtime sidekick.
James Golden, known on air as "Bo Snerdley," spoke to The Daily Signal about the man he worked alongside for 30 years. Golden recently published a book about Limbaugh, "Rush on the Radio: A Tribute from His Sidekick for 30 Years."
Golden, who served as Limbaugh's call screener, recounted, "You had people that depended on him to help guide them through when they were feeling badly about where the country was at a particular moment. We had a regular reoccurring theme amongst some callers, 'Rush, is it time to panic yet?' 'No,' he would say, 'No, there isn't.'"
Listen to the full interview on "The Daily Signal Podcast" or read a lightly edited transcript below.
Rob Bluey: It was only a year ago. The Heritage Foundation honored Rush LimbaughWith our Titan of Conservatism Award, we dedicated our new state of the art broadcast studios as Rush Limbaugh Radio Studios. [The Daily Signal is Heritage's news outlet.]It was an honor to pay that tribute. Unfortunately, Rush died from cancer a few months later. And now you're out with this book. Can you tell us the reason it was so important to tell his story?
James Golden: It is important that Rush's loved ones, and I mean his family, took the time to listen to him. This will help to shape his legacy.
I felt it was important to record my experience with Rush, having known him for more than three decades. He was an amazing human being and a generous man. He was a gentleman.
He was a broadcaster who achieved incredible success and he helped to change the face of American media. He lived a remarkable life. I was able, however, to share some of Rush's parts with listeners. Rush was a private man, but I still had enough to share with people so that they get a true impression of Rush's humanity.
Bluey: He was. Rush started his broadcasting career as a teenager and made stops in several cities, some of which weren't always successful before he really hit it big. What was it that drove Rush to keep trying until he succeeded?
Golden: He started his broadcasting career at 6 years old, with a small audience, his mother, in their Cape Girardeau, Missouri home. Rush got a Remco toy radio set and began broadcasting. From the age of 6, he felt a burning desire to broadcast. Imagine being on the radio. He was also writing scripts for play-by–play when the other kids were playing. He loved radio and was always passionate about it.
Once he was able to get into it as a teenager, and you're right, he had several instances where he was fired. He spoke about it many times. Yet, he left the industry at one time to work for Kansas City Royals. But he returned. He wanted to do it more than anything else. He was a successful entrepreneur after his brief stint in baseball. His career flourished in Sacramento, and he moved to New York where he joined the EIB Network.
He was finally able to host the radio show he had always wanted to do. It was his opinions and only his opinions which mattered. He could do the show in any way he wanted, with all the artistic freedom he needed. Oh my goodness! The rest of the nation was in for a surprise because he took the country by storm.
Bluey: Yes, he did. James, why is Rush appointment listening to so many million people every day?
Golden: Trust. This is something that I find very unusual. Whether it be a television broadcaster or a radio broadcaster, anyone in the media, we've heard stories.
I can recall hearing stories about how to make a cake. [CBS anchor]Walter Cronkite enjoyed the trust of America. [President]Lyndon Johnson knew he would not be successful the day Walter Cronkite attacked him in Vietnam War. You lost Walter, but you also lost the country.
Rush had the same level, if no less, of trust. It is amazing that this show has never stopped growing. He was a syndicated host for 33 years and this show continued to grow until his passing.
There were many people who relied on him to help them when they felt down about the country. We had a regular reoccurring theme amongst some callers, "Rush, is it time to panic yet?" "No," he would say, "No, there isn't."
Finally, he spoke out in front of the entire world during his last year of life. There's never a time to panic on America. America's not a place you can give up on.
People knew that he loved this country. He also worked very, very hard to "get it right." He saw no value in getting anything wrong. He spent a lot of time researching throughout his career to ensure that the information he provided was accurate and from the best sources.
If there was something that wasn't, he didn't wait until the end of the broadcast to try to hide it. He would correct any error reported at the top.
He was trustworthy with people and was witty. He was funny and articulate. He had a playful, irreverent sense for humor that people loved. His braggadocios tongue-in-cheek on air was infectious. He was a broadcaster with so many skills. He had perfected his skills. His audience loved him and trusted him. It was an uncanny bond that most media professionals will never be able achieve with an audience like his.
Bluey: Yes. You spoke about Rush and the research that went into each program, and I know how much time he spent on that. How did Rush come up with conservative beliefs?
Golden: I believe that he was always conservative. Rush spoke as a child about his father's conservative views and how he grew up in a law-abiding family. His grandfather was a lawyer and he still practices law after 100 years. The Cape Girardeau family is a wonderful group of people. They have the family law office, which is very well-known in Cape Girardeau.
His father, a World War II veteran who flew P-51s during World War II, was conservative by nature and also had a son. Rush was raised in a conservative family.
He used to tell his friends about how they would gather at his house to listen to their father and hear him rant about the evils and threats of communism. They loved how passionate his father would get about this. I believe that a lot of his success came from his family.
Bluey: James, I would like to know more about your story. How did you first meet Rush?
Golden: I was in New York at WABC. I had a story. WABC in New York was my favorite station. I started my career at WWRL in Woodside (Queens), doing research. To make a long story short, I was the last music director at WABC, the iconic radio station that ranked among the top 40 in the country, and also their first talk producer.
Rush came to WABC from my station. I didn't work with him immediately, but I did meet Rush outside of ABC as he was coming in on his first day and had a long chat with him.
I knew the former president of ABC Radio Networks, Ed McLaughlin, who was one of Rush's business partners. He introduced me that first day to Rush, and I remember making some comments to Rush after I had met him. We also talked a lot about what he wanted to achieve.
I said, "Wow, it sounds like you're going to be bigger than Paul Harvey." And of course, Paul Harvey at the time was the biggest name in radio.
I didn't know Rush would surpass any broadcaster up to that point in radio. I didn't realize how closely my own life would be affected by Rush's arrival so soon after.
Bluey: Thank you for sharing that. You shared 30 years of your life with him. Do you have a favorite moment you would like to share?
Golden: There's no one favorite memory of it. There are just so many great memories of being with Rush, but I'll tell you one that was really special.
The last year of Rush's life, of course it was COVID and we could not go into his control room because of fear of infecting him with anything. Last Christmas, Rush invited us three people who worked with him in the southern command every day: Dawn, the stenographer, Brian our Florida engineer, as well as myself.
He invited us to come into the studio to exchange gifts with him. We all dropped the masks and gave each other hugs. This was especially special considering that Rush was gone for Christmas.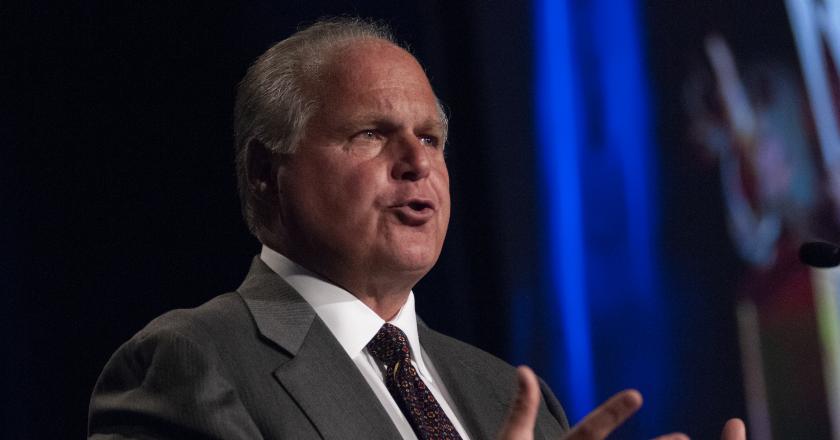 Bluey: I was going for a question about Rush off the air. I feel that we got a bit of a taste of him there. What was the biggest misconception that Rush Limbaugh supporters had about him?
Golden: I don't know. It all depends on where they got their misperceptions.
You read all these horrible things about Rush being a racist, which were either absurd or outright bigoted. Rush loved people. He loved the country. He loved people. He was a gentleman.
I was able to observe the way Rush treated people over time. You always received a thank-you, sir, no matter how small or large your contribution to Rush's coffee cup. Thank you, ma'am. He was polite, humble, and generous beyond words.
I'd like to point out aside from his personal generosity. It's something that our staff can attest to. Strangers can also attest to this because some of their most difficult moments in life were shocked to discover that Rush had heard their stories and had been their benefactor in one way or another. This was without seeking publicity or seeking it. He didn't want it.
But then there's what happened on the air with his generosity. … Everybody in this industry has participated in these charitable drives. And through that we've raised tens and tens of millions of dollars to fight diseases like leukemia. Leukemia doesn't have a political ideology. It can strike anyone, anywhere, at any time. The human race has benefitted from the tens of million dollars raised.
You should also look at the amount of fundraising he has done. [his wife]Kathryn did the same for the families and loved ones of first responders who died in the line-of-duty. Now, if you lose your parent or your spouse, one of the things that you're going to worry about is whether you'll be able to keep a roof over your head. How will the family survive if they are gone? Rush and Kathryn raised millions to ensure that first responder families could afford their homes. Some cases even offer scholarships to allow the children to attend school without any financial burden.
These are the things, the generosity that made Rush a human being to me. Rush was a giver. He gave. His staff stayed with his for many decades and decades. His friends were generous to the point of blaming him. They will all tell you stories about it. And yet one of the things that he did not seek was, "Oh, look at me. I want to be known because I'm such a great guy."
Because it was a private matter, he asked people to keep it confidential. He lived it, he walked the walk, he lived it, but he wasn't seeking the attention for all of the good that he did that still impacts people's lives.
Bluey: Thank you for telling our listeners about Rush's generosity. That is something that I don't think many of us really knew about the man and that's why we appreciate your making sure that we all know that.
One final question for you. Out of all the amazing things Rush would say every day, the moment that sticks out to my mind is when he was awarded the Presidential Medal of Freedom by President Trump at the State of the Union Address. What was it like behind the scenes? And what were the preparations?
Golden: Rush was scheduled to begin his treatment on that day. He had just announced that his advanced lung cancer was diagnosed and he and Kathryn headed off to Boston to receive treatment.
It was there that Trump met him the day before he was supposed. It was a chaotic day. They didn't even have the proper attire. They had to organize all of this quickly to get to DC. It was a surprise, but it was a delightful surprise.
Sean Hannity had a tip and told me that something special was coming that night. Sean had been instrumental in making it happen. He and Matt Drudge. And, of course, President Trump.
I said, and I'll say it again, President Trump did something that I don't think anybody else could have done. He awarded Rush a well-earned, well-deserved honor.
It was beautiful. We are so grateful for President Trump's kindness. It was a moment we will all treasure, Rush being honored in the way we felt he should be for his entire career.
Bluey: It was a wonderful moment. James, thank you so much for writing Rush on the Radio. How would you like listeners to follow your work and what you've been up to?
Golden: I'm back at WABC, my home station doing a show six days a week, you can go to JamesGolden.comYou can find more information at You go to WABC Radio and I'm working on a few other projects. Life has been hectic and I miss Rush every day.
Bluey, We do. James Golden, thanks so much for joining "The Daily Signal Podcast." It's great to talk to you.
Golden: My friend, thank you. Awesome, Rob. Thank you so much Rob.