The project, which was launched in London locked down, continues to bring live music to the doorsteps for vulnerable and isolated residents.
Saxophonist and singer Chloe Edwards-Wood is used to performing to large audiences, but that didn't stop her nerves jangling the first time she played on a stranger's doorstep. 
She did this near her Catford home, south-east London, together with another musician from the Give a Song project. 
"It was really terrifying," recalls Edwards-Wood (main picture, left), "although as soon as we started that first song, a version of the Motown classic Dancing in the Street, the barriers came down. I remember thinking: 'This is it! It works!'. The person loved it and people stopped to watch and listen and clap along." 
Edwards-Wood lost her job, as did many in the music business. She was eager to make use of her talents and came up with the idea to sing for those who were simply struggling or shielded. A total of 15 people got in touch with her after she posted about the idea on Facebook. One of them was a trustee at the Goldsmiths Community Centre in Lewisham. 
"I had no understanding of things like insurance and risk assessments, but the community centre gave me the support to make it all happen," says Edwards-Wood. 
She started a crowdfunding campaign, which, together with grants, means that musicians can be paid.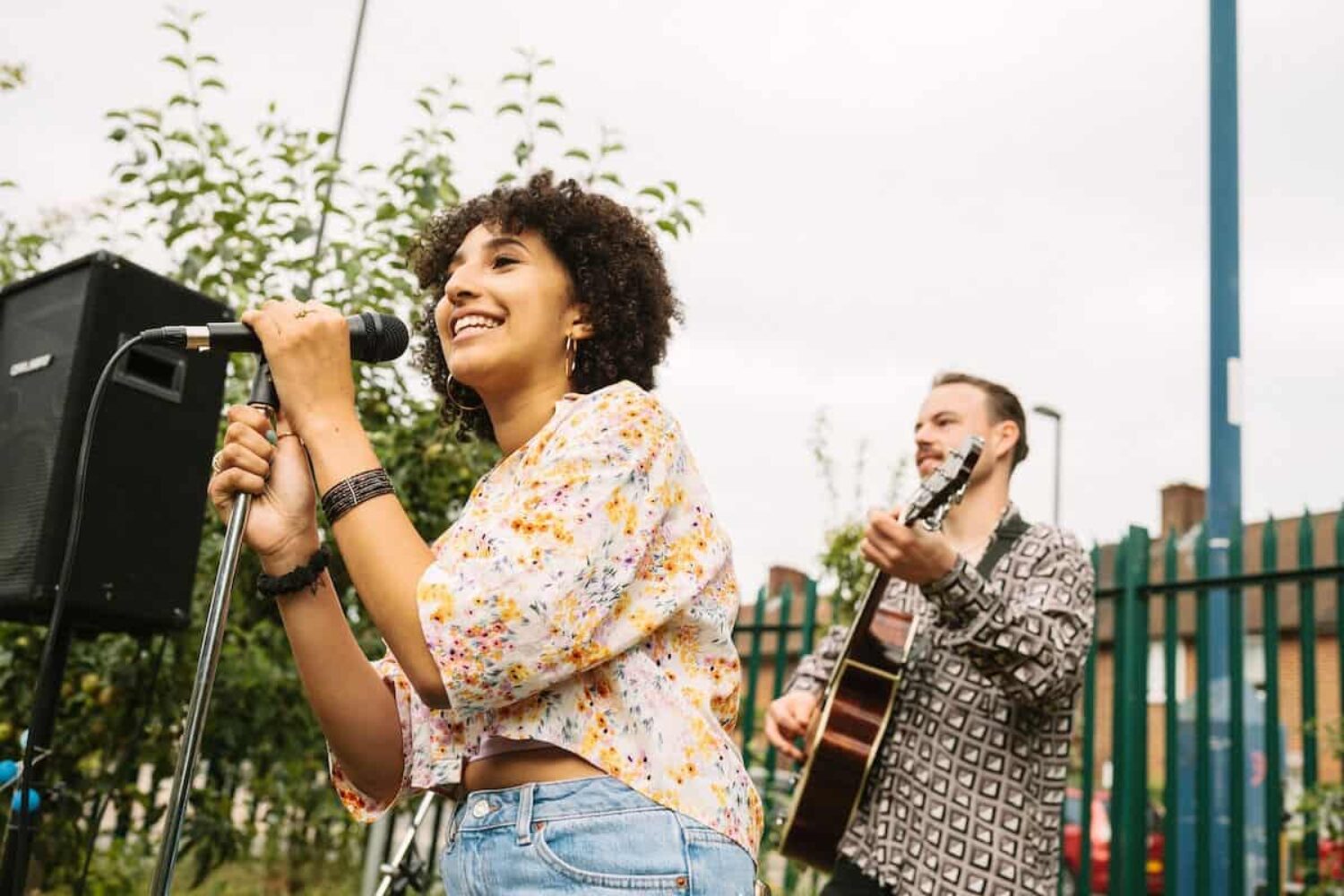 Since that initial doorstep visit 18 months ago Give a SongMore than 6,000 people were entertained by 360 performances. These performances were performed at hundreds of Lewisham homes, as well at care homes and food banks, as well at many mental health projects. 
Frequent song requests include 1940s classics like Vera Lynn's We'll Meet Again and Nat King Cole's Unforgettable. Their most loved tune? Bob Marley's Three Little Birds. 
Online, anyone can nominate a recipient. Residents can then sit outside and watch the musicians perform from their windows or doorsteps. Visitors are welcome to visit at no cost, but some people may choose to donate.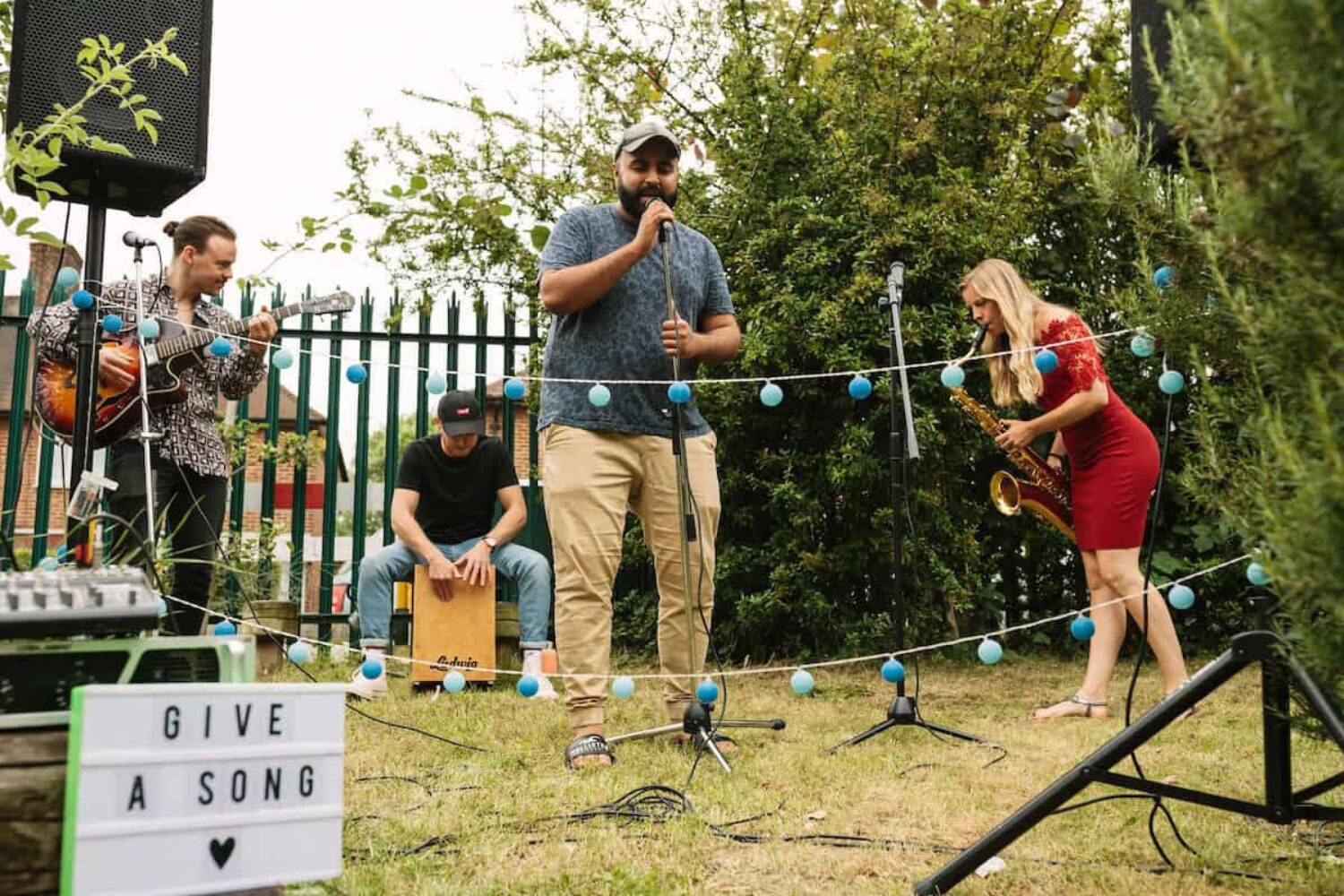 Despite the lifting Covid restrictions, many requests continue to flood in. "Loneliness and isolation aren't unique to the pandemic," reasons Edwards-Wood, who is in the process of turning Give a Song into a Community Interest Company.
She always knew the power of live music to brighten up people's days, but wasn't prepared for quite how much. The dramatic change was especially dramatic for a 92-year old woman with dementia. "It was like electricity coursing through her body as soon as we started to play. – she was singing and dancing with us." 
The moment we started to play, it was like electricity began to course through her body
Visits can last just 15 minutes, but the experiences live on beyond the doorstep, Edwards-Wood believes: "It's also something to discuss and remember and talk about, sometimes for months or longer afterwards." 
And it's not only the recipients who are benefiting. Two musicians who participated in Give a Song went on to study music therapy after their involvement. It has also been transformative in the case of Edwards-Wood. 
"I don't know what my life or my mental health would have looked like without this," she says. "Being able to share all these interactions, all these moments of musical joy, I feel very lucky."
Main image: Sinah Keller