A variety of drinks made from plant-based bottles is hitting the market this summer. They are also very carbon-friendly.
Here are three world-firsts in the drinks industry worth toasting: beer, wine, and tequila packaged in plant-based bottles
Carlsberg has created a new wood-and-plant-based fibre bottle. The company claims it preserves the taste and fizziness in lager as well as glass. It also insulates the drink to keep it cooler for longer periods of time. The bio-based fibre bottles are fully recyclable and have a plant-based polymer liner. It is currently being trialled in its largest pilot by Carlsberg to date – 8,000 bottles containing beer brewed with regeneratively grown barley – in countries across the UK and Europe.
Wine retailer based in Gloucester When in RomeThree Italian wines were launched in recycled paper bottles by Ocado in May. Their recycled paper bottle of 94%, made in collaboration by sustainable packaging company Frugalpac, has a carbon footprint that's 84% lower than glass. The firm said its paper also aim to overcome the stigma around 'bag in box' wines, which are typically viewed as being inferior.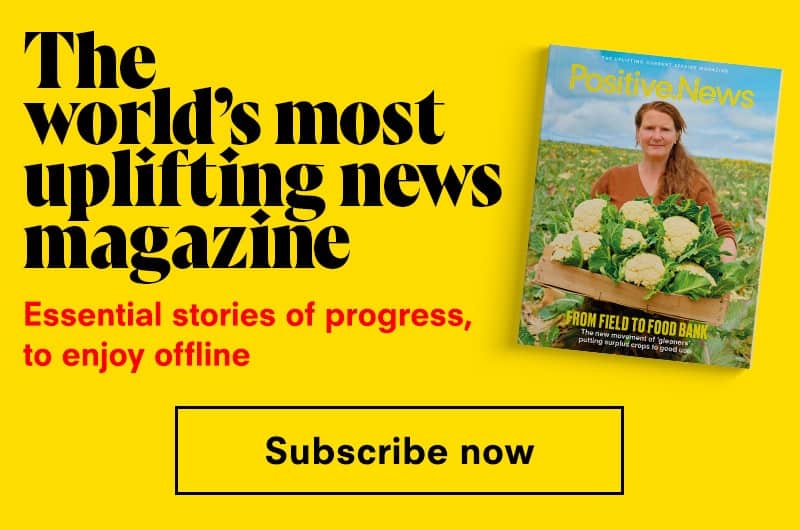 "We're here to prove that whether you're drinking from a glass bottle or a paper bottle, the quality of the wine is not impacted," said When in Rome founder Rob Malin.
Glass is one of the most recyclable materials. However, heating it to a melting point at 1,600C takes a lot of energy. Also, paper or cardboard bottles are lighter than glass and therefore easier to distribute.
To this end, Stockholm is the best. Buen VatoThe launch of cardboard bottles of tequila will be in July. "The drinks industry needs a shake-up, and sustainability needs to be placed at the heart of this transformation," said Claes Puebla Smith, CEO of AliasSmith, which owns the Buen Vato brand.
Carlsberg main image
Help us continue to break down the bad news bias
Positive News is helping more people than ever to get a balanced view of the world – one that supports their wellbeing and empowers them to make a difference towards a better future. And as our audience and impact grows, we're showing the rest of the media that good news matters.
But the UK's cost of living crisis is hitting us hard, with fewer people able to commit to a magazine subscription – which has traditionally been our main source of funding. Additionally, printing and paper costs are on the rise.
We don't want to put a paywall on our website, because we believe everyone should have the chance to benefit from good news. But we won't be able to continue funding our online reporting without your help.
If you value the work we do and have the means to make a regular contribution, please consider becoming a Positive News supporter. We need 1,000 readers to contribute just £3 per month to get us through this challenging time.

Remember, we are a non-profit organization and all funds support our journalism.
SUPPORT POSITIVE NEWS NOW