A senior Justice Department official referred to a highly regarded religious liberty organization as a "hate group" in a recent LinkedIn post. 
Eric P. BruskinAssistant director of the commercial litigation branch in the Justice Department's Civil Division, used the term to describe Alliance Defending Freedom, a Christian legal advocacy group founded in 1993.
The Justice Department's social media policy discourages employee comments that could be "perceived as showing prejudice" toward characteristics such as religion.
Bruskin, previously a lawyer with the ACLU of Massachusetts appeared to follow the lead of the Southern Poverty Law Center, a left-wing group that regularly calls Alliance Defending Freedom and other conservative organizations "hate groups."
Bruskin used the term "hate group" in responding to a LinkedIn post by James Weida, a former assistant U.S. attorney in Massachusetts who now is a state health official in Florida. Weida's message also praised Florida Gov. Ron DeSantis, a Republican who is often attacked by Democrats, was also included in Weida's message.
In his post, Weida wrote: "Honored to speak with [senior counsel] Matt Sharp at Alliance Defending Freedom about the work we're doing in Florida to protect kids from experimental medical interventions and to defend parental rights, all thanks to the leadership of Governor DeSantis." 
Bruskin referred to Alliance Defending Freedom in his reply to Weida, writing: "Jason, this is a hate group. You're speaking at a conference for a hate group. Are these your beliefs? If so, then it's time we end our professional association."
Bruskin's title, workplace, and the preferred personal pronouns "He/Him" appear next to his name.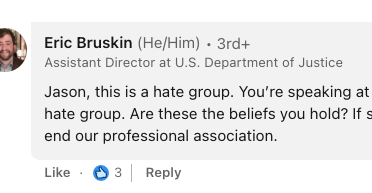 The Daily Signal sought comment from the Justice Department on Bruskin's public comment on social media. Justice Department public affairs specialist Danielle Blevins replied Thursday in an email: "I received your inquiry. We're going to decline to comment."
Bruskin left the American Civil Liberties Union of Massachusetts to work for the Justice Department in 2009, Barack Obama's first year as president. He was promoted to his current position as assistant director for commercial litigation in July 2020. 
The employee manual of the Justice Department includes a standard for conduct regarding personal use social media.
This policy states that all employees of the department must adhere to certain standards of conduct for online communications. These standards apply regardless of whether they are at work, on duty, or using government equipment. The policy states: 
All department employees should be familiar with the following requirements regarding the use social media. Department attorneys should also be aware the obligations imposed under applicable rules for professional conduct. 

… Department employees should not make comments that can be perceived as showing prejudice based on race, gender, sexual orientation, or any other protected basis. The DOJ Civil Rights and Civil Liberties website explains what other protected classes are. [that] federal law prohibits discrimination based on a person's national origin, race, color, religion, disability, sex, and familial status.
In late August, the Justice Department applied restrictions to prevent even non-career, political appointees—in addition to career employees such as Bruskin—from attending partisan political events, Politico reported.
"As department employees, we have been entrusted with the authority and responsibility to enforce the laws of the United States in a neutral and impartial manner," Attorney General Merrick Garland said in a memo to Justice Department employees about the new policy. "In fulfilling this responsibility, we must do all we can to maintain public trust and ensure that politics—both in fact and appearance—does not compromise or affect the integrity of our work."
Alliance Defending Freedom is available on its website describes itself this way: "ADF is the world's largest legal organization committed to protecting religious freedom, free speech, the sanctity of life, parental rights, and God's design for marriage and family."
"Alliance Defending Freedom is recognized as among the most effective legal advocacy organizations dedicated to protecting the religious freedom and free speech rights of all Americans," Greg Scott, the group's senior vice president for communications, told The Daily Signal in an email. 
Scott said he couldn't speak directly about Bruskin. 
"[Alliance Defending Freedom] has prevailed in 14 Supreme Court cases since 2011, including Dobbs v. Jackson Women's Health Organization, the case that overturned Roe v. Wade," Scott said. "Additionally, [Alliance Defending Freedom] has secured more than 400 victories protecting the free speech rights of students on college campuses over that same time frame." 
 "[Alliance Defending Freedom] will continue to do the hard work of preserving liberty and leave the name-calling to others," he added.
Bruskin did not specify in the short post on LinkedIn where he came up with the "hate group" characterization. 
However, the Southern Poverty Law Center designatedAlliance Defending Freedom is a hate group. The left-wing group routinely includes mainstream religious organizations and mainstream right -of-center organizations with extremist organizations like the Ku Klux Klan, neo Nazis and neo Nazis on a hate list. 
Since the scandal of sexual harassment and discrimination at Southern Poverty Law Center, it has been widely discredit. 
The organization was forced to apologize to British activist Maajid Nawaz and the Quilliam Foundation in 2018 after listing them in its "Field Guide to Anti-Muslim Extremists." After Nawaz threatened to sue for defamation, SPLC settled the claim and agreed to pay $3.3 millionIn damages and post an apology video
In 2015, the Southern Poverty Law Center placed Dr. Ben Carson, a renowned neurosurgeon then running for the Republican presidential nomination, on its "extremist list." 
During the Trump presidency, Carson became secretary of Department of Housing and Urban Development.  
Weida declined comments. Weida is an assistant Secretary at the Florida Agency for Healthcare Administration. They did not immediately respond to inquiries for this story.