The Netherlands has opened a once-in-a decade horticulture expo to show the world how to make cities greener, cleaner and more liveable. Positive News looked around
I felt the urge to smell a building for the first time. Hmphhhhh. I was inundated by the pleasant aroma of midsummer flower pollen. But it was only a fleeting moment. A bee buzzed close to my ear and I ran.  
I was at Floriade in the Netherlands, a once-in-a-decade horticulture expo that's like the Chelsea Flower Show, only bigger, quirkier, and more solutions-focused. The theme this year is 'growing green cities' – organisers of the seven-month jamboree in Almere want to show the world how. With Europe sweltering in heatwaves, the timing is critical. 
The Dutch are unique in their ability to offer advice on building adaptable cities. They moved the sea to build theirs, using an elaborate system of dykes and pumps to keep the tide at bay – expertise that will be more valuable as sea levels rise. Floriade is actually located on the seabed and is now the largest land reclamation project in the world. A local saying immodestly sums up the achievement: "God made the world, but the Dutch made the Netherlands".
Spread over sixty hectares – with a cable car shuttling visitors overhead – the site is carved into 192 plots, each one showcasing ideas and innovations that could help make our cities greener, more liveable. Or, at least, prettier. 
One of the most striking exhibits is the building (main image). It made my nostrils twitch. The office, which spans four floors, is adorned with violet bellflowers and white daisies, and lush greenery. It is alive, fragrant, and buzzing with bees. But inside, it looks like any other work place, with its ergonomic furniture and desktop computers – proof, perhaps, that building green cities doesn't mean compromising on functionality. 
When Floriade finishes in October, the building will become the permanent home of Aeres University's science faculty. The entire site will become a suburb for Almere. Almere was originally a series of sketches back in the sixties, when planned cities were still in fashion.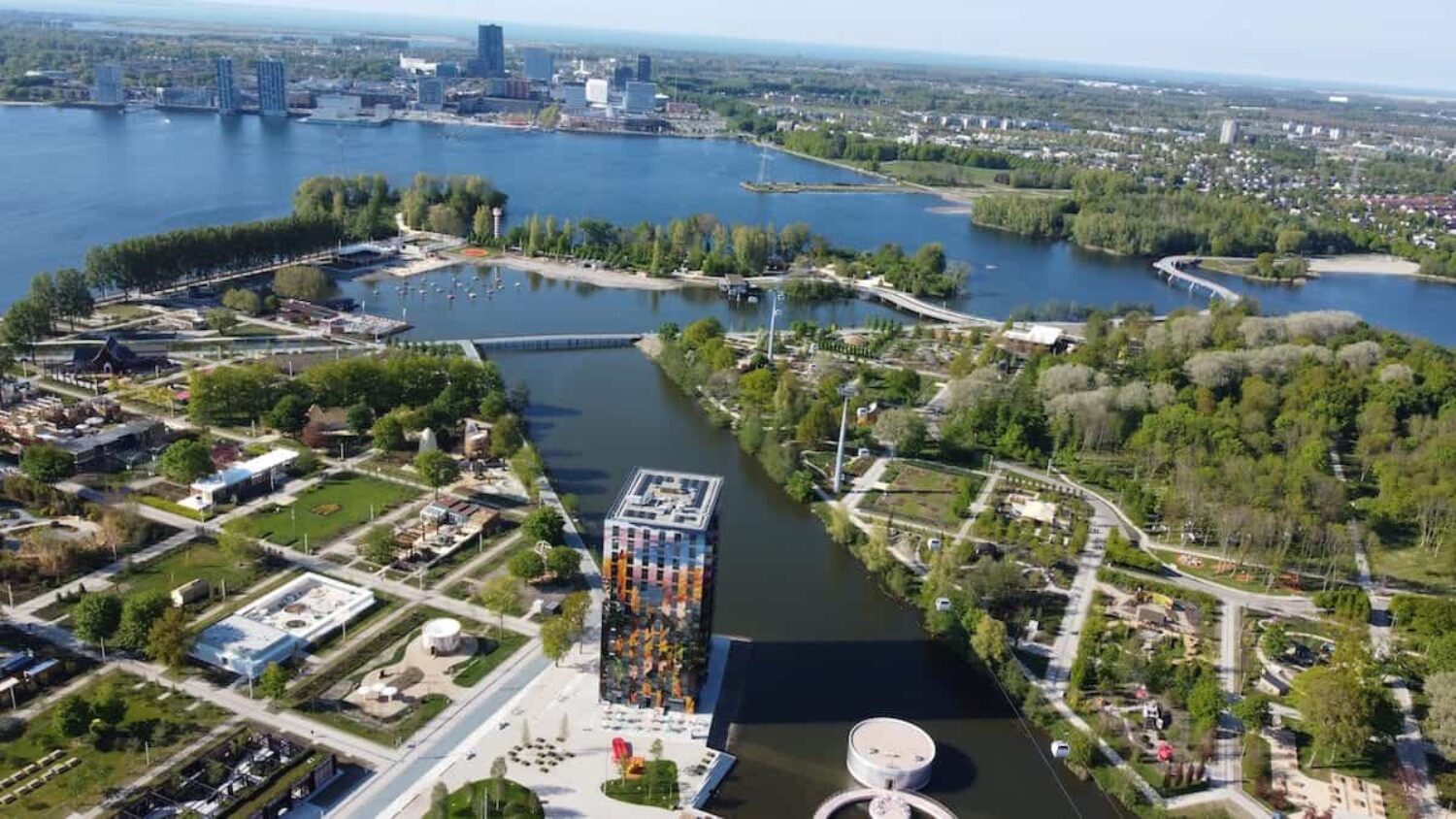 The Dutch answer to England's Milton Keynes, Almere is ordered, functional, and a bit unromantic, with architectural flourishes reminiscent of Rotterdam. As town planners realized the errors of their past ways, the city has been in a state of reckoning over recent years. Paved areas were excavated and replaced by borders bulging with lavender flowers. This provides purple corridors for bees. 
Organisers say that the neighbourhood that will rise from Floriade's ashes will build upon this, creating a green legacy for Almere.
I wandered around, looking for inspiration. Although Dutch innovations are the most popular, this international expo and the Qatari plot attracted me. The oil-rich nation is hardly synonymous with eco innovation, but it posits a solution to a problem many nations are familiar with – what to do with all the brine created by desalination plants.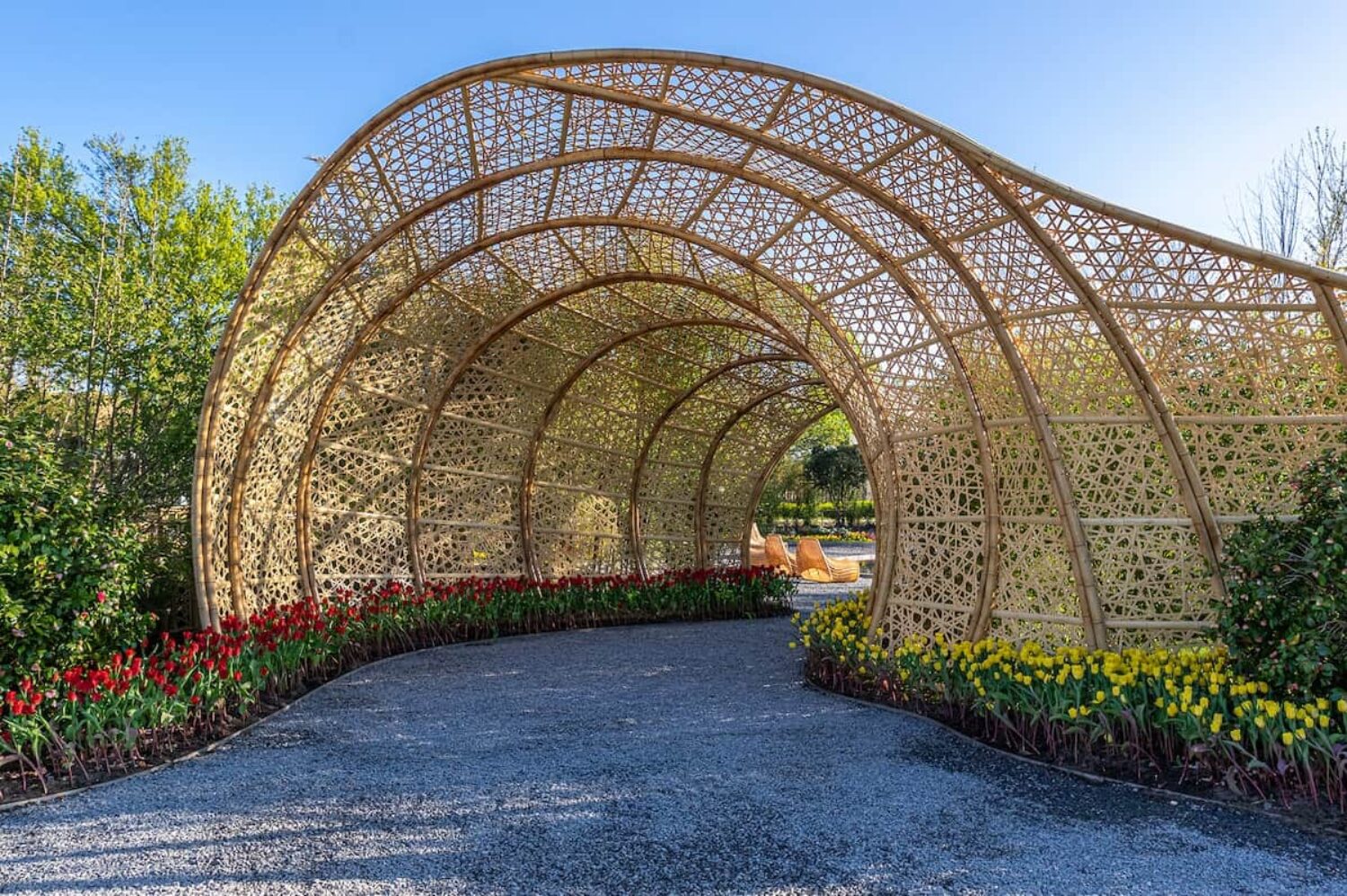 Studies have shownThe brine from desalination poses a threat for ocean habitats as it is often discharged. Ayesha al Mheiri helped me to find a solution. She showed me various ponds and explained how brine can be used to grow salt-tolerant crops, such as samphire. Or even to raise fish like the tilapia. 
Other ideas are simple and pleasing, such as the metal canopies that I found on the French stand. Designed for urban areas where planting trees isn't possible, the concave frames provide a structure for climbers to creep up. Once in full bloom, they create shady areas, helping cool cities down, countering the so-called 'urban heat island' effect.
Later, I discovered that the building was entirely made of bio-based materials. These bricks were made from dry turf, cork walls and clay plaster. It smelled real and earthy, wholesome and real. A different building, however, was entirely made from melted plastic. 
Floriade is a reminder of the innovative design solutions to the climate crisis, plastic contamination problem, and other challenges. It shows what is possible in an increasingly warming world and how beautiful our cities and towns could be if all creatures were considered.  
Five Floriade innovations that can be used to create green cities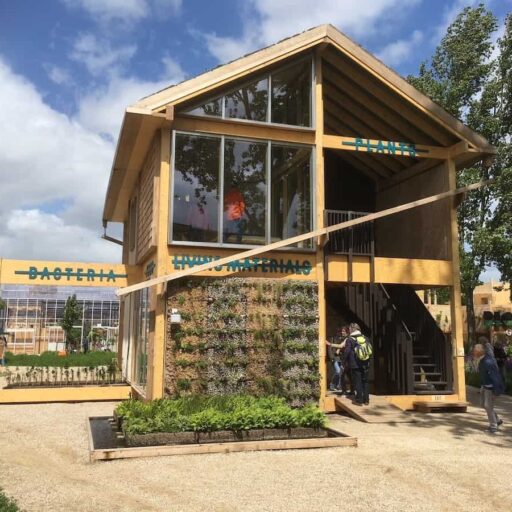 1. The Exploded view
We all know that the first piggy built his home out of straw, while the second piggy used wood and the third one used brick. Of course, the latter kept the wolf away, but he also left the most carbon footprint. Perhaps the other two were right. 
Enter the Exploded View, a bio house-cum-exhibition that shows what's possible with plant-based materials. Think bricks made of dried sod, fungi lamphades and pressed seaweed tile, mycelium flooring, and hemp insulation. All of these would keep piggy safe and lock away carbon.
Image: Gavin Haines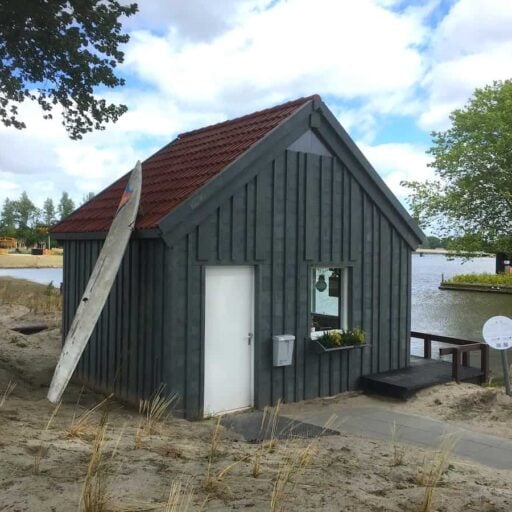 2. Save Plastics beach house
This house was built in one day using bricks made from low-grade, difficult to recycle plastics. The Dutch startup behind this innovation. Save PlasticsThe company is trying to close the waste loop by transforming discarded plastic that would otherwise be destined for landfill into structures such as bridges and benches. Its beach house, says the firm, could help provide a solution to the housing crisis, and the construction industry's carbon emissions, as well as plastic pollution.
Image: Gavin Haines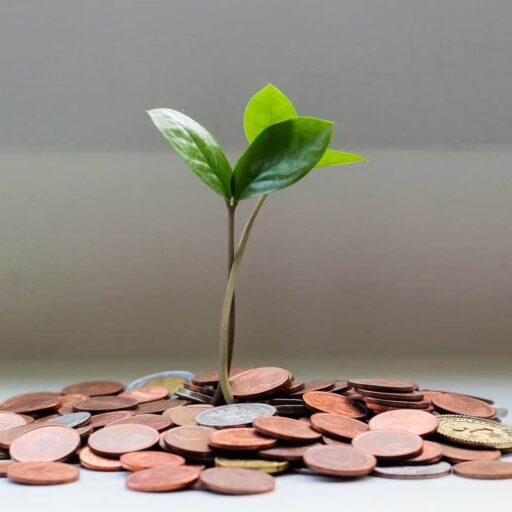 3. ECO coin
Even though they are not in circulation at Floriade ECO coinis being promoted as one way to support communities in making sustainable choices. Building on local currencies like the Brixton pound in south London – launched to encourage people to shop locally – ECO coin rewards users who make sustainable travel choices, eat greener diets, etc. Research showsIt is possible to motivate positive change by using rewards-based games.  
Image: Micheile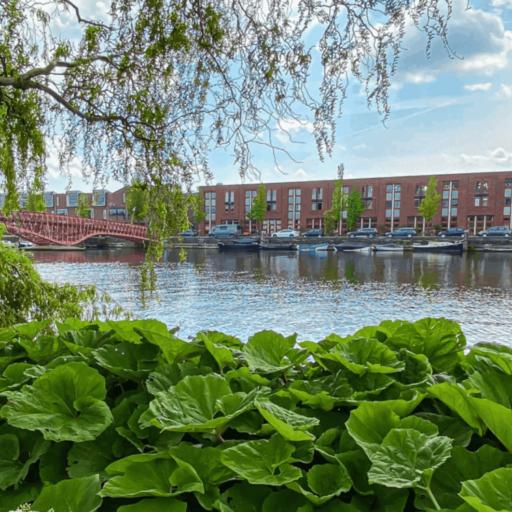 4. Floating farms
The Dutch have been fighting against the tide for centuries. They move the sea to build cities. Many Dutch residents live on canals. This country is well-equipped to offer advice on how to adapt to rising seas. Enter Floating Future, a Dutch company that develops off-grid floating farm systems. Its stand at Floriade displays how crops can grow on canals, seas, and rivers using green electricity. It is similar to vertical farms but also reduces food miles.
Image: Floating Futures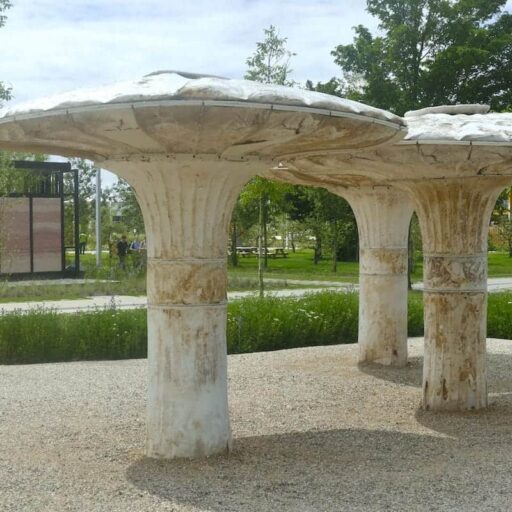 5. Mycelium Parc
Why not make furniture or build buildings? It sounds like a radical idea, but it's entirely possible thanks to mycelium. Mycelium, which are roots of mushrooms, create beautiful networks underground. They can also be 'trained' to grow into moulds, offering the possibility of mycelium being used as an eco-friendly material for construction. Floriade's Mycelium Parc offers a glimpse of what's possible.
Image: Floriade
Main image: JW
Help us continue to break down the bad news bias
Positive News is helping more people than ever to get a balanced view of the world – one that supports their wellbeing and empowers them to make a difference towards a better future. And as our audience and impact grows, we're showing the rest of the media that good news matters.
But the UK's cost of living crisis is affecting our income, with fewer people able to commit to a magazine subscription – which has traditionally been our main source of funding. Additionally, printing and paper costs continue to rise.
We don't want to put a paywall on our website, because we believe everyone should have the chance to benefit from good news. But we won't be able to continue funding our online reporting without your help.
If you are able to afford it and value what we do, consider making a regular or one-time contribution as a Positive news supporter. We need 1,000 readers to contribute just £3 per month to get us through this challenging time.

Remember, we are a non-profit organization and all funds support our journalism.
SUPPORT POSITIVE NEWS TODAY