Due to the UK's cost of living crisis, more people are turning to food banks and donations to help them get by. But how does this impact people's sense of dignity? Two projects offer a fresh perspective on giving and receiving.
Before Carole Jones opened her 'social supermarket' in Dorset in November 2020, she had no idea it would grow to support hundreds of people. 
Jones (main image, above) recruited over 100 volunteers to assist others during the pandemic. They did everything from shopping and collecting prescriptions to walking their dogs and much more. After receiving funding from her local clinical commissioning organization, they started offering food vouchers. Vale PantryThe birth of the first child. 
"The medical centre's social prescribing arm discovered that 47 per cent of the surgery's appointments were for people who didn't really need to see a GP," Jones says. "The reasons came down to isolation, anxiety and other factors, but also things like poor diet and food poverty. So, they were very keen to be involved in the setting up of the pantry." 
UK food insecurity is increasing. The food bank charity was the number one in 2012-13 Trussell TrustNearly 350,000 people received food parcels, which will rise to 2.5 million people by 2020. 
At the Vale Pantry, based in the town of Sturminster Newton, members pay £6 a week for the equivalent of up to £60 worth of shopping. They can choose their fresh fruits and vegetables, meat, fish, and other staples. All those who are eligible can get sanitary wear, formulamilk, and nappies. The service now supports nearly 650 people, 271 of whom are children. Funding comes from a combination of grants and donations, in addition to member contributions. 
Jones felt that it was crucial to make the right choice. "With the food bank model, you're given a box and it's normally just tins and packets," she says. "When members come to us, they can go around and choose exactly what they want." 
We were almost embarrassed when we opened our first pantry. Now, the pantry is full of laughter and fun.
Jones and her team help people budget and create recipe bags with instructions to support them in making delicious meals. "That's been brilliant," she enthuses. "People now are not afraid to take a butternut squash, a swede or a melon home."
CJ Bowry, a Surrey resident, is committed to preserving dignity for those living in financial uncertainty. She founded Sal's Shoes in 2013 and has since distributed almost 3m pairs of shoes to children in 54 countries. The charity's UK work has expanded significantly over the past two years, particularly through its school shoes fund Toe to Toe, which saw 41,000 pairs being donated in 2021 alone.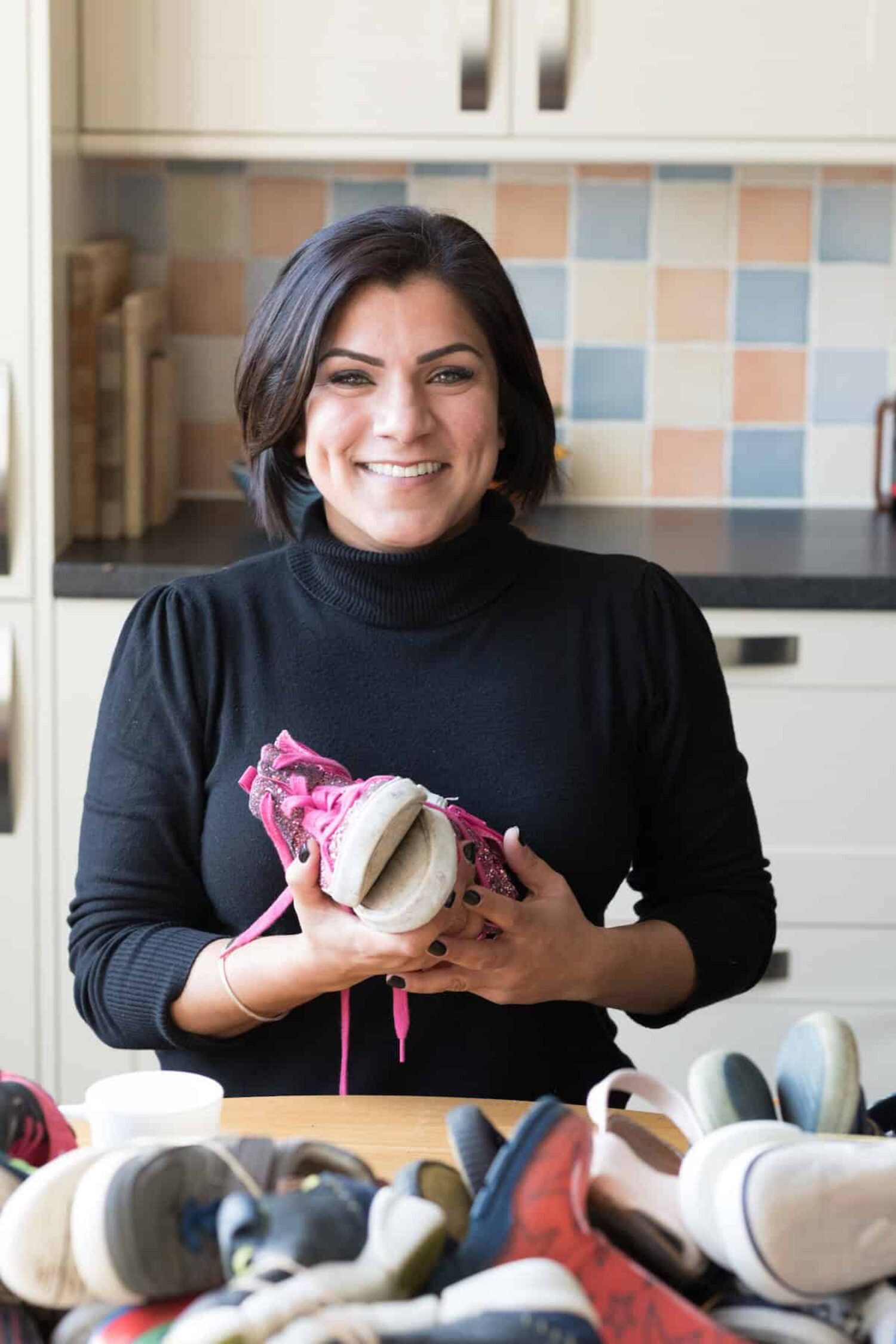 "I had calls with headteachers from five primary schools yesterday," Bowry says. "They had all spotted kids with the soles literally flapping off their shoes. Many people don't realise that shoe poverty exists. But for lots of the families we work with, it comes down to: 'Do we pay to have the heating on? Do we have to pay for food for our children? Or: Do they go to school with holes in their soles?' We have an education system that's free to access, but school uniform is mandatory. What do you do if you can't afford it?" 
Research from the University of YorkThis confirms that uniform costs were prohibitive for some low-income families. After the lockdown, children returned to school. 
Sal's Shoes has recently been working with the Guinness Partnership, a housing association that manages more than 66,000 homes across England, to set up shoe banks in three communities. Their Hackney, Salford and Crewe shops are filled with preloved footwear, organized by size and color and laid out as a normal shoe shop. There are trainers, wellies, school shoes, and others. Instead of being handed a pair of shoes that fits, children can have their feet measured. 
"It's really trying to make it as close to a real-life shopping experience as possible: the only difference is families don't have to pay," Bowry says.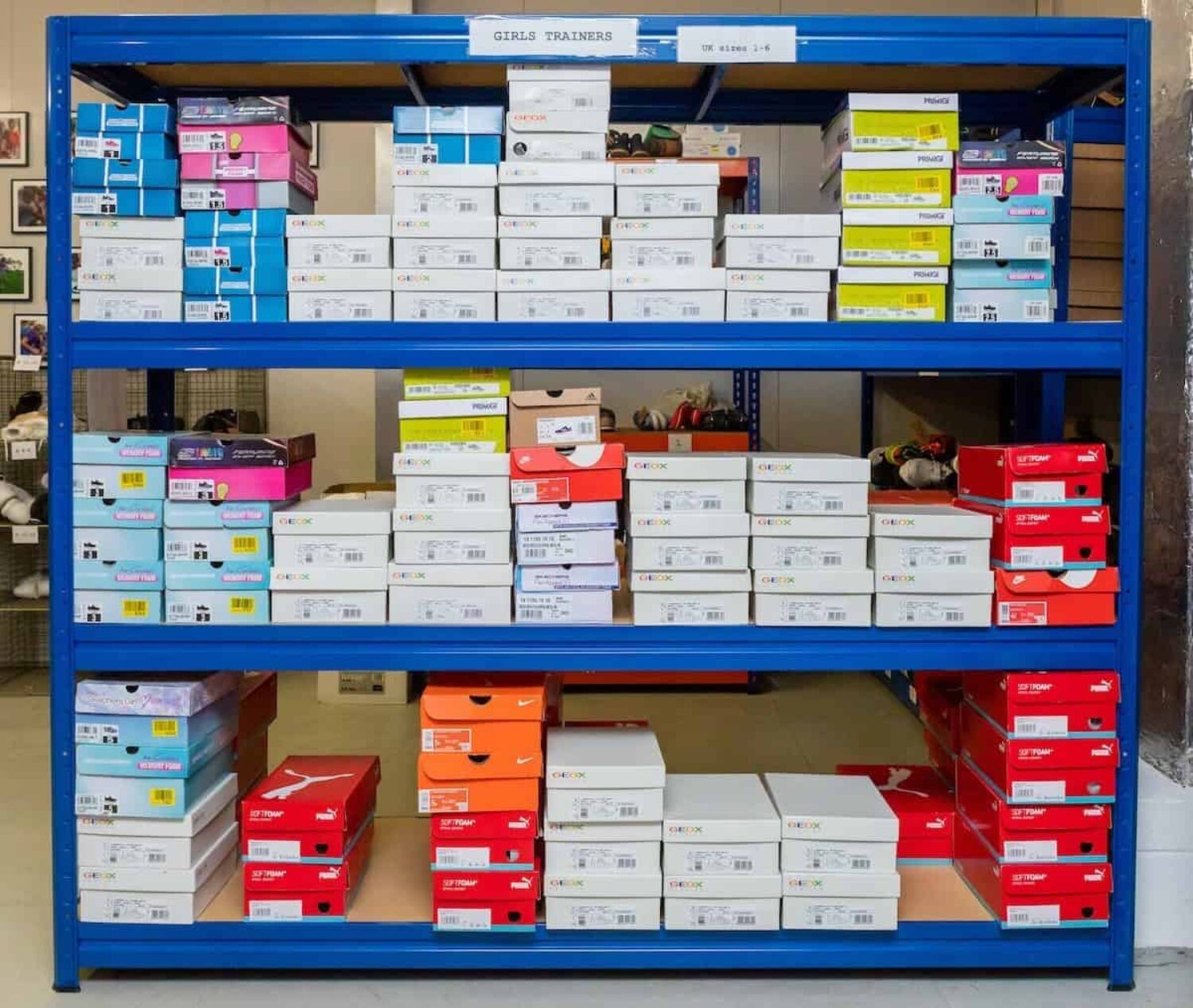 The Guinness Partnership is a partnership that provides mentoring support, food pantries, clothing, bikes, and other services to a variety charities. 
"We look at projects where people have choice," says senior community partnership manager Brian Hamlin. "Everything we do in terms of alleviating hardship is about empowerment and improvement. It would be easy to put shoes in a box and say: 'Your shoes are over there, go and get them.' But to be able to pick a pair that you like? It's hard to quantify the effects of that, not just on the child but [also] on the family." 
Sometimes all it takes is a stepping stone
Jones, back in Dorset, has just received an email form a member proposing that there should be a Vale Pantry for every UK village and town. She isn't quite ready to take that on, but Jones is convinced that members now feel more dignified about accessing help to get back on their feet. 
She knows firsthand how kindness in society can go a long way. "When we first opened, it was almost as though people felt embarrassed. The pantry is now a place for laughter and fun. For many, it's their social outing of the week. Last year, we helped more than 190 families back to full independence, where they don't need us any more. Sometimes people just need a stepping stone."