A farm in Suffolk is using hyper-efficient glasshouse technology to grow tomatoes all year. Could this be a better approach than relying on imports?
Richard Lewis knows his tomatoes. The former director of the British Tomato Growers' Association has tended them since 1984. He even has a cherry tomato – 'the Lewis' – named after him. But now, he's cultivating something special.
Three miles north-west of Ipswich, just beyond the village of Bramford, a neon pink glow can often be seen through the trees. It's hard to miss – it looks like a wedding disco – but the LEDs are actually coming from the UK's first semi-closed glasshouses, run by Sterling Suffolk.
Covering 5.6ha, these energy-efficient hothouses use AI technology to optimise the growing conditions for tomato plants. That pink glow is a blend of red and blue supplemental lighting, designed to increase the crop's biomass. An in-house hydroponic system feeds the vines, reducing the need for fertilisers and pesticides, and limiting water usage. So could this be the low-carbon future of edible crop production? Lewis, who is managing director at Sterling Suffolk, thinks so.
"There is a current and growing demand for sustainable production in the UK," says Lewis. Indeed, a recent report found that 85 per cent of shoppers wanted supermarkets to only stock food from sustainable and ethical sources. However, with the food sector currently responsible for nearly 20 per cent of all UK CO2 emissions, we're a way off from making that a reality. Add to that the complex debates around what constitutes a sustainable choice – locally produced but grown under glass, or imported but grown outside? – and the path forward is rockier still.
"Most growers want to do things better," says Lewis, "so perhaps the answer is to persuade the retailer that we could do that if they paid us more for it. We have the Tesco Finest range for better favour, for example, but should we have a Tesco Greenest range?"
The sector is improving. In the Netherlands, major tomato producer Duijvestijn harnesses geothermal energy to heat its greenhouses. Thanet Earth, which grows peppers, cucumbers and tomatoes in Kent using combined heat and power generators, sends excess power back to the grid. 
Most growers want to do things better, so perhaps the answer is to persuade the retailer that we could do that if they paid us more for it
For its part, Sterling Suffolk pollinates its crops using British bees, and uses predatory insects rather than insecticides to control pests. The company's glasshouses are cooled by water sourced from an onsite reservoir. Though gas is used to heat the glasshouses, Lewis is focused on capturing and reusing as much of their CO2 emissions as possible – at least 75 per cent currently. Tomatoes need CO2 to grow, ripen and maximise their yield. Under such controlled conditions, the glasshouses will produce approximately 3,000 tonnes of tomatoes a year by 2023 – about 20 per cent more than traditional glasshouses – and they do it using 25 per cent less energy.
However, standing alone is not enough. Lewis believes a joined-up, long-term approach is required. 
"We need to increase our capacity for production to avoid air freight and extended transport runs from overseas," he says. Of the 500,000 tonnes of tomatoes sold in the UK each year, only 20 per cent are grown here. Spain and Morocco are among the countries that supply the rest.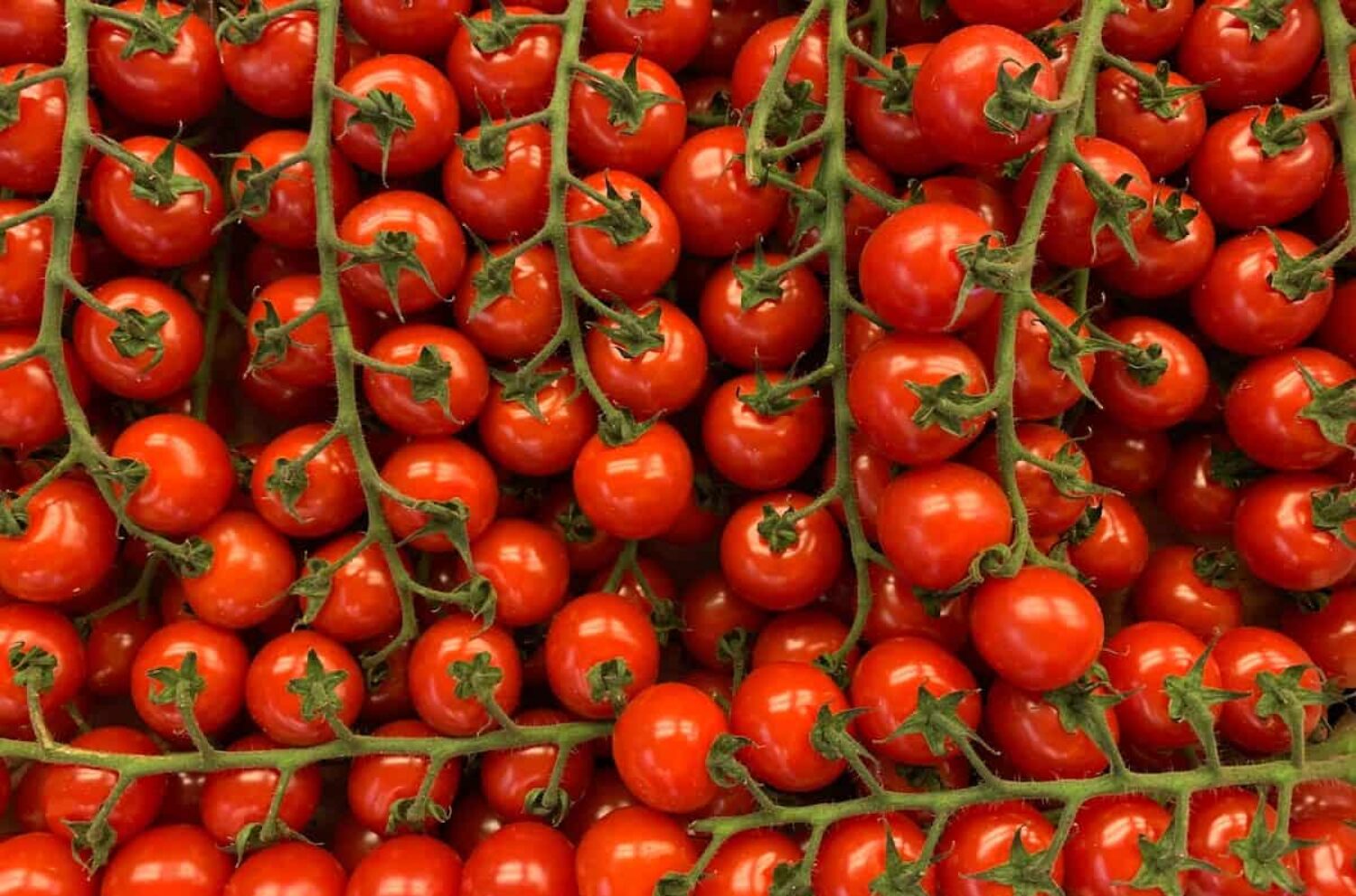 Although it's difficult to make a like-for-like comparison between emissions from tomatoes grown with heat in the UK versus those grown outdoors and imported in, Lewis raises some interesting points about total environmental footprint. Spanish tomatoes, for example, are grown beneath plastic tunnels, which need to be replaced every four years. Where water is scarce, growers desalinate it from the Mediterranean, requiring a power plant and more lorries on the road.
"We still need to understand that cheap isn't always best and certainly not best for the planet," says Lewis. "When growing a large vine tomato, we get about 60kg of tomatoes per square metre. In Spain, you're looking at about 15kg. So, it takes a lot of land to get the same yield."
We need to understand that cheap isn't always best and certainly not best for the planet
If the UK is to meet its net zero commitments, approximately 21 per cent of agricultural land in England will need to change function, according to the recent National Food Strategy. The Suffolk glasshouses can grow bigger yields in smaller spaces, allowing excess land to be rewilded or used for forestry or peatland, for example.
"We have become used to having all types of fruit and veg whenever we want it at prices that are unsustainable," says Lewis. "but we can't destroy the planet and ignore our responsibilities."
Change, however, glows pink on the horizon.
Main image: Richard Lewis/Sterling Suffolk